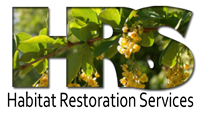 Habitat Restoration -
Why Native plants are so much easier to maintain


Plants native to this continent or more specifically the northeast have developed survival strategies over millions of years. You might as well take advantage of this!
Native plants save you time, effort and money …
Less watering once established
Less maintenance
Less interesting to deer

Recommended native plantings to attract .....
Birds and Butterflies.

Here are some native species that can be used as replacements for the Japanese Barberry: These native plants supply nutritious berries. You might call them bird candy.

Bayberry, Myrica (Morello) pennsylvanica
Blueberry, Vaccinium angustifolium
Chokeberry, Prunus virginiana
Gray Dogwood, Cornus racemosa
Inkberry, Ilex glabra
Spicebush, Lindera Benzoin
Wild Raspberry Patches
Winterberry, Ilex verticillata

Also sold but Designated as Invasive – Do not use the following substitutes:
Parthenocissus quinquefolia
American Burningbush, Euonymus atropurpurea
Bees

Asters - Aster
Blueberries - Vaccinium
Cherries - Prunus
Daisey Fleabane - Eigeron
Plums - Prunus
Sunflowers - Helianthus
Hummingbirds

Trees
Azaleas and Rhododendrons
Catalpa - Catapa
Hawthorn – Crateagus
Tulip – Liriodendron tulipifera
Plants
Beebalms - Monarda
Blue Sage – Salvia azurea
Cardinal flower – Lobelia canadensis
Columbine – Aquilegia canadensis
Indian Pink – Spigella marilandica
Trumpet honeysuckle – Lonicera sempervirons
Recommended native plantings by habitat
Dry Areas

Trees
Ash – Praxinus
Colorado Spruce – Picea Pungens
Hawthorn – Crataegus
Hedge Maple – Acer campestre
Locust – Gleditsia
White Pine – Pinus stroba
Shrubs
Blue Mist – Caryopteris
Broom – Cytisus
Gray Dogwood – Cornus racemose
Juniper – Juniperis
Spirea
Wet Areas

Trees
American Arborvitae – Thuja o.
Pin Oak – Quercus palistris
Red Maple – Acer rubrum
River Birch – Betula nigra
Willow – Salix
Witchhazel – Hamamelis vir.

Shrubs
Bayberrry – Myrica pennsylvanica
Highbush Blueberry – Vaccinium c.
Inkberry – Ilex glabra
Silky Dogwood – Cornus amom.
Spicebush – Lindera benzoin
Winterberry – Ilex verticillata
Shade Tolerant

Trees
American Holly – Ilex opaca
Arborvitae – Thuja
Flowering Dogwood – Cornus florida
Hemlock – Tsuge Canadensis
Sourwood  - Oxydendrum
Shrubs
Chokecherry - Aronia
Dogwood – Cornus
Leucothoe
Mountain Laurel – Kalmia
Spice Bush – Lindera benzoin
Deer Resistant

Trees
Eastern Red Cedar


Shrubs
Juniper


Ground cover
Allegheny Spurge – American Pachysandra
There are over 2000 plant species in Connecticut and this site can recommend only a small portion of what is available for you to nurture in your habitat.
Write us about what issues you are resolving in your landscaping efforts. What do you want it to become?
The bottom line..... Get rid of invasives.
Give your native plants a chance so our birds and butterflies can return in numbers.
That's why you have to act now.
Invasive Plants can be identified in the following ways: